Differences Between Superfast 1939 Chevy Sedan Delivery Models
The 1939 Chevy Sedan Delivery was originally commissioned by White Rose. The initial model (MB215) was too small for their requirements though, and a 2nd version (MB245) was created at a larger scale and released by that company. The original version was later used by Matchbox for several models and released as a blank for Code 2's.
The easiest way to distinguish them, if you have access to the model, is to check the scale on the base. MB215 is at 1:63 scale while MB245 is 1:57. These are clearly stamped on the base.
MB215 & MB245 sizes (thx to C. Falkensteiner for comparison image):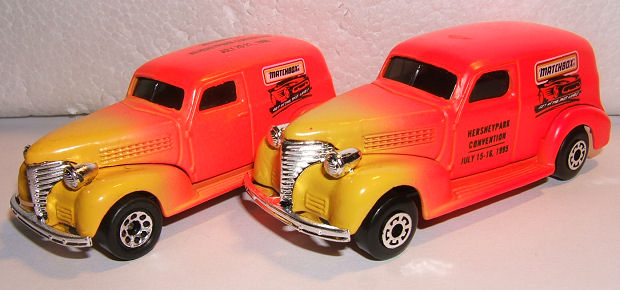 Other differentiating features are:
MB215 has a distinct rear bumper; MB245 has no rear bumper
Axle covers at the wheels are cast differently. MB215 has plastic covers cast to the wheels themselves. MB245 has covers cast as part of the base.
---
MB215 (SF0399):
---
MB245 (SF0375):
Hello, visitor!
The site is now under new management and is not going to close anytime soon. Your collections are safe!
Lots of new features coming soon!
Subscribe to be notified about new features. NO SPAM!
Thank you to everyone who's been supportive of the site!
Regards,
Tom